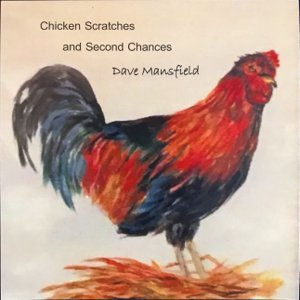 Dave Mansfield's NEW Album: Chicken Scratches and Second Chances... Tracks include American City, City of New Orleans and more. His music featured on LPMix.Live Radio!
The current health crisis and resultant and various lock-downs, separations and isolations have given me pause. It seemed to me that it was time to recommit to my music and long shelved plans to record some of my work. After playing piano and guitar and doing some vocal work over a (now lengthy) lifetime and sharing my music here and there it seemed a good time and opportunity to share some of the emotional support that music brings.
The result of all this introspection is my latest recording I've called Chicken Scratches and Second Chances. Chicken Scratches for the appearance of my rough draft songwriting notes. Second Chances for the second chances many of us are given and many of us seek to leave things better than we found them. Ramona Mansfield's wonderful Chicken painting was an inspiration and seemed just right as the cover art for this CD.
The album is an eclectic mix sample of some of my favorite musical styles and genres.
American City was written many years ago after hiking in the Rocky Mountains with my beautiful Ramona and "discovering" the ghost town American City, high in the Rockies. At that time it was not on the maps or tourist in

formation brochures but simply an abandoned mining town in that wind swept valley.
Five Foot Two…etc…: I've always loved the "stride piano" sound and style and found that a lot of early 20th century American Songbook music and a certain joyous and happy feel to it. I combined the two ideas into this medley.
I awoke one morning this past summer to once again realize that we exist in an unfamiliar and disconcertingly different world now. My strength training workouts with my BIG IRON Powerlifting Team were radically altered and the Team was strained. The BIG IRON New Reality Blues just tumbled out during that July morning…I tried to put a jaunty and ironic feel to what could have been a very bleak concept.
My Dad taught me to play piano at an early age. He introduced me to Rag Time Music, it was a favorite of his and Scott Joplin was one of his musical heroes. When my Dad passed some years ago I was honored to inherit his piano. Weeping Willow is a Scott Joplin Slow Drag Ragtime piece that I played on my Dad's piano and in his memory. Hope you enjoy this wonderful musical piece.
Beautiful Dreamer was the result of songwriter's block. A few years ago I was trying to try writing some new songs and having very little success. One day during a walk in the bogs I came up with the idea that the old Stephen Foster song could be turned into a Jerry Lee Lewis style rocker. I went home and played Stephen Foster's song and found that, no it would not and could never be a rock 'n roll piano tune. The title lingered however. One morning (these things seems to happen in the morning) I awoke, and there it was! My take on a Beautiful Dreamer.
The chord progressions on most of the old 50's and 60' ballads are generally very limited and used over and over. Every once in awhile one of those old love songs take a turn and gives us a sentimental love song with a somewhat unusual progression. That's what brought me to Please, Love Me Forever and To Know Him is to Love Him. An early Phil Specter production. I've known and played these two songs for decades. Listened to Kathy Jean and The Room mates asking "please love me forever" when I was a pre teen…anyway, I thought they made an interesting if sentimental pair of tunes.
City of New Orleans. What more to say and American Singer Songwriter instant classic my the superb Steve Goodwin and recorded by him, Willie Nelson, Also Guthrie (most famously) and John Denver. Great song. My piano arrangement just seemed to work with this wonderful tune about Americana.
Over the Rainbow is on many lists of favorite songs. Recently heard it by Eva Cassidy as played in her last concert while I traveling in Wales a few years ago. It brought back many memories. Such a beautiful ballad. I chose not to do it as a vocal and went with a somewhat country arrangement to bring out the poignant feeling. Very one knows the lyric so you are free to :hear" the words in your own voice as you listen.